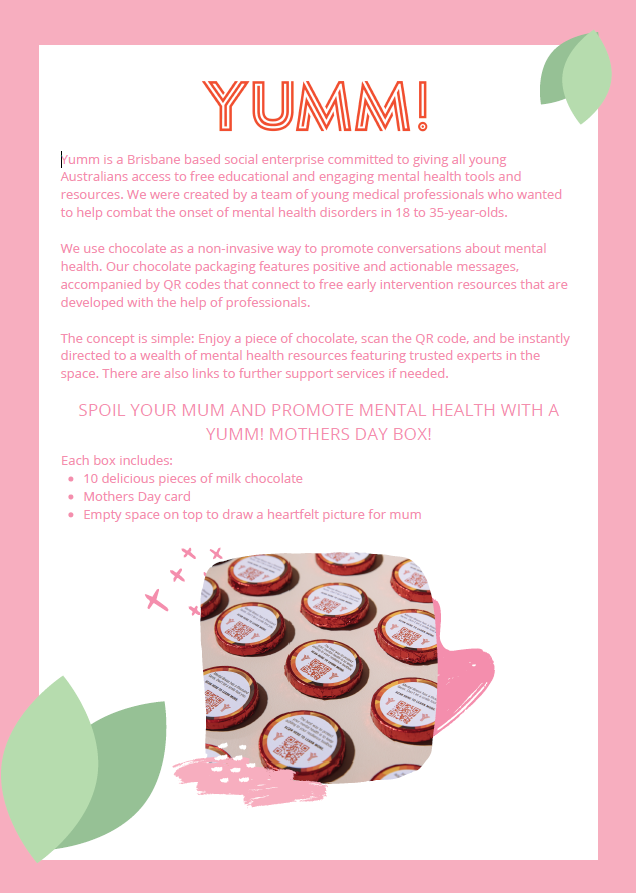 The Dutton Park State School P&C would like to invite you to buy a box of chocolates for your kids to give to the special females (mum, nana, sister, cousin, aunt, family friend) in their life for Mothers' Day.
The proceeds of the sales contribute to raising money for the school and also support the goals of Yumm, which is a Brisbane based social enterprise committed to giving all young Australians access to free educational and engaging mental health tools and resources.
– The box has a section on the top for the kids to draw/design/write their own message
– All the nutritional information is on the back for health and dietary requirements
– 10 pieces of 12g chocolate beautifully presented to accompany other gifts the kids are giving Mum
– A message on the inside of the box communicating Yumm's mission and values, and how the sale of this chocolate is contributing to getting young Aussie early stage mental health tools and resources
The boxes will be available to collect from the uniform shop on the afternoon of Thursday 6th May or if not collected then they will be given to your child to take home on Friday 7th May.
If you have any questions about this initiative please contact Tanya.
Chocolate orders have now closed. Thanks for supporting this initiative.