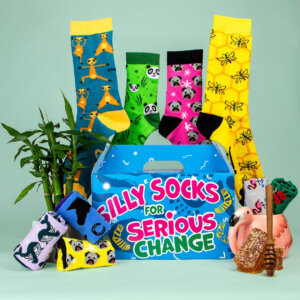 The Dutton Park State School P&C would like to invite you to buy some pairs of 'Jolly Soles' socks for your kids to give to the father figures in their life for Fathers' Day on Sunday 4th September.
Jolly Soles have a fun personality and they are the perfect Father's Day gift you have been looking for! Everyone love socks, so why not get them some funky, eye catching animal-themed ones to wear every day!
The socks are made from 70-80% cotton, nylon, polyester and spandex and are great quality with reinforced stitching in the heel and toe.
$7 per pair
$20 for 3 pairs
Size suits mens shoe sizes 9-12. Designs will be randomly allocated (they include Sloth, Bee, Ladybug, Sausage Dog, Whale, Elephant, Flamingo & Horse).
Get in quick as they won't last long and numbers are limited!
The proceeds of the sales contribute to raising money for the school. Socks will be distributed to classrooms on Friday prior to Father's Day.
If you have any questions about this initiative please contact Tanya.