Uniform Shop is a service operated by the P&C Association, and as such relies entirely on volunteer availability. Get in touch if you can help.
UNIFORM SHOP ONLINE: CLICK HERE to go to our online store. During checkout there will be space to include your child's name, class and any other delivery information. A parent volunteer will deliver orders to your child's classroom as soon as possible. Exchanges and refunds can be arranged by email.
UNIFORM SHOP IN PERSON: Uniform shop operates from the Parent Hub under Block C.
Thursdays:   2:30 pm – 3:15 pm

FAMILIES JOINING DURING THE SCHOOL YEAR: we can open by appointment for new families, contact us to arrange

JOINING PREP IN 2021? Uniform Shop will be open during the 3rd Prep transition session (Tuesday November 24th, 8.30 – 11.00 am)
Uniform Shop is not open on public holidays or during Queensland state school holidays unless stated otherwise. Payment at the Uniform Shop can be made using cash or card.
Second hand uniform is only $2 per item, available at the Uniform Shop.
Please direct all enquiries to uniformshop@duttonparkss.eq.edu.au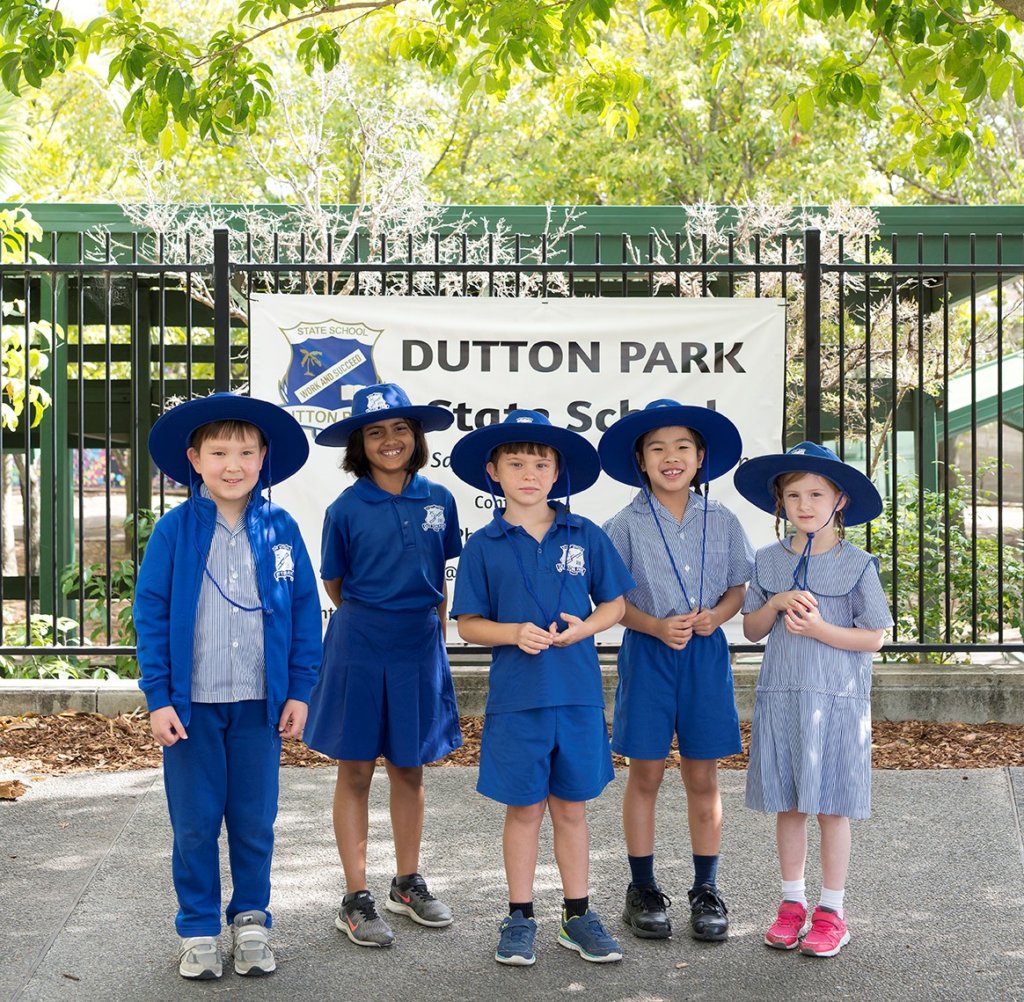 | Item | Size | Price |
| --- | --- | --- |
| Polo shirt with logo | 4, 6, 8, 10, 12, 14, 16, 18, 20 | $20 |
| Stripe shirt | 4, 6, 8, 10, 12, 14, 16, 18 | $25 |
| Shorts – 'Rugby' knit | 2, 4, 6, 8, 10, 12, 14, 16, 18 | $20 |
| Culottes | 3, 4, 6, 8, 10, 12, 14, 16, 18 | $25 |
| Stripe dress | 3, 4, 6, 8, 10, 12, 14, 16 | $40 |
| Wide-brimmed hat with logo | 53, 55, 57, 59, 61 cm | $15 |
| Jacket with zip and logo | 4, 6, 8, 10, 12, 14, 16 | $25 |
| Track pants | 4, 6, 8, 10, 12, 14 | $20 |
| Tights – Navy blue | 4-6, 7-10, 11-14 | $10 |
| Headscarf/Hijab – Royal blue | One size | $10 |
| Library book bag with logo | One size | $10 |
| Back pack with logo | Soft | $55 |
| Sports T-Shirt – Light blue or gold | 4, 6, 8, 10, 12, 14, 16 | $10 |
| Swim cap – Lycra, light blue or gold | One size | $5 |
| Second hand uniform items | Not available online | $2 |