The Dutton Park State School Uniform Shop is a service operated by the P&C Association, and as such relies entirely on volunteer availability.
We have a fantastic group of volunteers that keep the uniform shop operational, but we always need more! Join the team to help with staffing the uniform shop, delivering online orders, stock counts, or book-keeping. If you are interested please get in touch.
Uniform shop operates from the Parent Hub under Block C.
Opening hours during school term are:
Mondays:     8:15am – 9:00am
Thursdays:   2:45pm – 3:15pm
Uniform Shop is not open on public holidays or during Queensland state school holidays unless stated otherwise. Payment at the Uniform Shop can be made using cash or EFTPOS.
Second hand uniform are only $2 each, and are available at the Uniform Shop, and also for cash sales only when Parent Hub is open:
Thursdays:   8:45am – 9:30am
Scroll down to find out about ordering online, and to see our price list.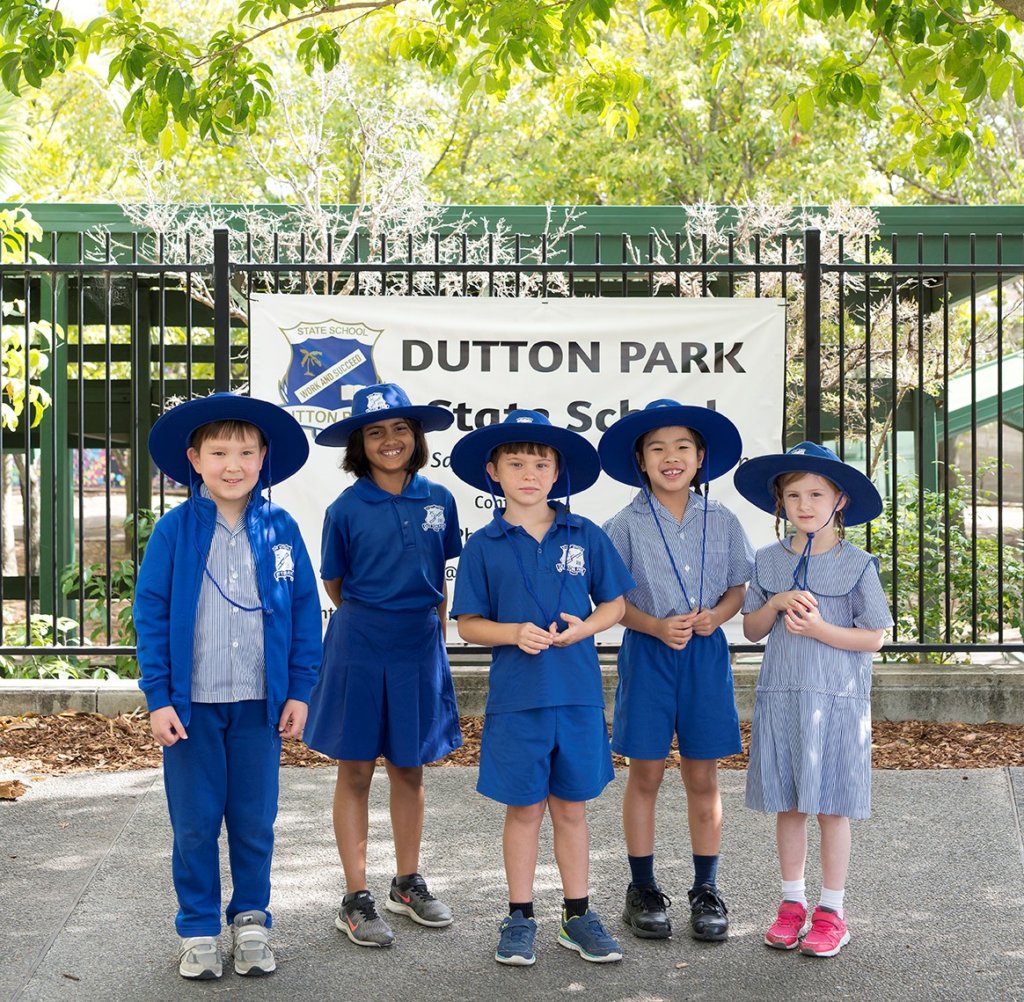 You can order all new uniform items by logging on to www.flexischools.com.au. You will make an account with the name of your child linked to their class, then place an order and pay online. A parent volunteer will deliver orders placed in flexischools to your child's classroom as soon as possible – if there is a particular day that you need your order to be delivered, or if you would like to pick up, please email us. Exchanges and refunds can be made during Uniform Shop opening hours or arranged by email.
Please direct enquiries to uniformshop@duttonparkss.eq.edu.au​
| Item | Size | Price |
| --- | --- | --- |
| Polo shirt with logo | 4, 6, 8, 10, 12, 14, 16, 18, 20 | $25 |
| Stripe shirt | 4, 6, 8, 10, 12, 14, 16, 18 | $25 |
| Shorts – 'Rugby' knit | 2, 4, 6, 8, 10, 12, 14, 16, 18 | $20 |
| Culottes | 3, 4, 6, 8, 10, 12, 14, 16, 18 | $25 |
| Stripe dress | 3, 4, 6, 8, 10, 12, 14, 16 | $40 |
| Wide-brimmed hat with logo | 53, 55, 57, 59, 61cm | $15 |
| Jacket with zip and logo | 4, 6, 8, 10, 12, 14, 16 | $25 |
| Tights – Navy blue | 4-6, 7-10, 11-14 | $10 |
| Track pants | 4, 6, 8, 10, 12, 14 | $20 |
| Headscarf/Hijab – Royal blue | One size | $10 |
| Sports T-Shirt – Light blue or gold | 4, 6, 8, 10, 12, 14, 16 | $10 |
| Back pack with logo | Soft | $50 |
| Back pack with logo | Framed | $55 |
| Library book bag with logo | One size | $15 |
| Swim cap – Lycra, light blue or gold | One size | $5 |
| Second hand uniform items | Not available online | $2 |